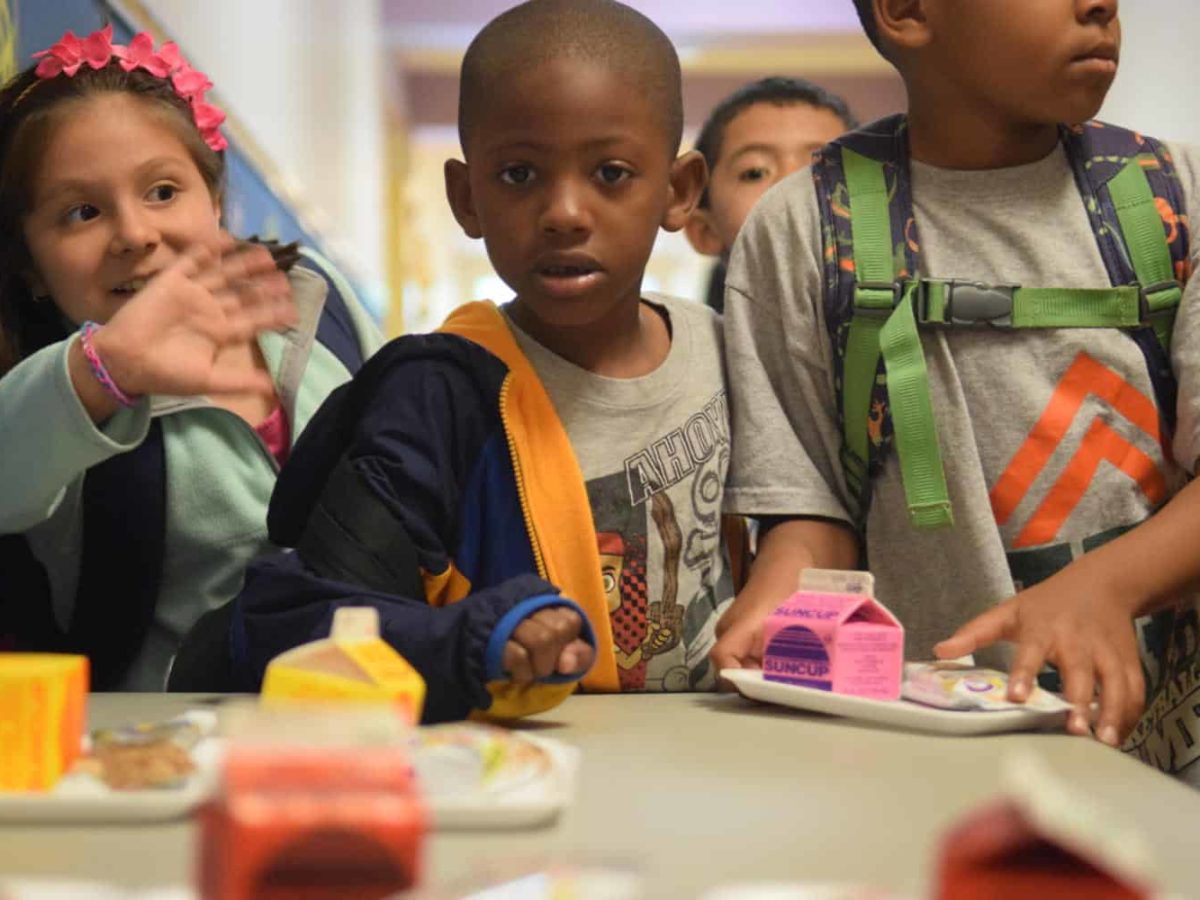 Annika Conrad is one of the talented team members working on the Reach NC Voices project. Please share your thoughts on the issues that we are exploring through the EdNC chatbot at the bottom of the article. Your opinions will be amplified throughout North Carolina.
Growing up, school lunch was pretty simple. My mom would make a turkey sandwich with love and some Goldfish or fruit, which I would ultimately try to trade with my friend Danny for some Dunkaroos. Danny always had Dunkaroos.
In high school our cafeteria had the hot food side and the cold food side, the latter which I would usually line up at to get my turkey wrap or salad with some chips. If I wanted to have a cheat day, I would go to the hot side and get some chicken nuggets or pizza and indulge in my life long love of melted cheese.
Only after teaching in a Title I school in Eastern North Carolina did I realize how starkly different my school lunch norm was from my students', some of whom live in food insecure homes and look to school lunch and breakfast as guaranteed sustenance as opposed to another meal in the day.
While working as an educator, it was very clear to see the effects of school lunch and school breakfast on my students. The most apparent to me was the effect of school breakfast. When my students were waking up at 5 am to get on an hour and a half long bus ride to school, I didn't fault them for not being hungry that early in the morning. I didn't fault them if they don't eat because they don't have food at home, nor did I fault them if they have a bite to eat before they get on the bus and are hungry again at 8 am when first period begins. When my students ate breakfast at school, they were always more attentive in class than when they didn't have breakfast. When we were able to eat breakfast together in the classroom instead of the cafeteria, it created this wonderful, positive sense of community. The sense of community and fellowship was a fantastic way to start the day and let students find joy in school.
School breakfast participation is up in North Carolina from about 396,338 students served in the 2013-14 school year to about 449,870 students served in the 2014-15 school year, with participation rates continuing to rise across the nation. More schools are offering school breakfast and lunch, and more students are getting the sustenance they need to be successful scholars. This is a fantastic step forward into ensuring our students have healthy brain fuel to start their day.
The problems in school breakfast in my school often came when the buses were late. Students had to chow down their food, they could only eat in the cafeteria, and they had the last picks of breakfast. Sometimes the buses came too late, after the cafeteria stopped serving breakfast. In that case, students would shuffle to first period, already late and still hungry, counting down the periods until their 20-minute lunch break. Through no fault of their own, they couldn't have breakfast, and were now challenged stay focused as their stomach grumbled, minds wandered, and eyes fell heavy.
Students who participate in school breakfast show improved attendance, behavior, and standardized achievement test scores as well as decreased tardiness. 
The first period struggle is far different from the 5th period struggle. My former colleague, LaMar Holmes, recently reminded me of our familiar exchanges we had with sluggish students:
"What's wrong?"
"Idunno."
"Did you have lunch today?"
"No."
"Okay here's an apple."
Or some crackers.
Or a granola bar.
We would tell students who didn't want to eat their fruit at lunch to give it to the teachers because we would then give it to students who were caught in the 5th period struggle. After eating some fruit or crackers, their heads always lifted up off the table, their focus returned to the work at hand, and they began to go back to their normal selves. There's no purpose in scolding or punishing a child for his or her body's natural reaction to hunger. It's a simple concept – hungry kids cannot be good students.
What many people don't realize is that school food is a major factor in establishing a good school culture. Our students were not opposed to trying or learning about new foods. My students were curious about the green stuff Ms. Conrad was eating, only to learn that it was pesto, which they had never heard of before.
A Journal of School Health report found that students who were exposed to fruits and vegetables through taste tests consumed them at higher rates than students who were not. When Rachel Head, the FoodCorps member for our school, would come in with taste tests of local vegetables, our students were fascinated. They had the ability to taste new food and give feedback to someone who would listen. My students took pride in knowing that they were eating food from local farmers, the collards from the fields they drove past on their bus ride to school. Knowing that they were eating foods from farmers that many of them knew helped deepen their sense of connectedness to their community. Taste test days sparked more conversation about nutrition and food than any fun video or lesson could.
My hope is that research will underscore that we should find common ground around the idea that it is more difficult for hungry kids to succeed academically. 
Share your opinion via the EdNC Chatbot.