One in every eight students in North Carolina public schools has a disability. That's more than 190,000 people who need the expert support of the state's educators. Yet those students are also a potential wellspring of talent for the state's STEM industries.
Enter the Catalyst program. Hosted by NC State's Science House, the program gives high school students with disabilities the hands-on learning and experiences they need to thrive in STEM fields — science, technology, engineering and math. The program's director, Joann Blumenfeld, is a local science teacher and former Kenan Fellow whose passion is helping students with disabilities to overcome the stigmas and potential hurdles that stand between them and career success.
"A lot of these kids do not end up in college," says Blumenfeld, "and the ones that do, only about 7 percent study STEM careers. Yet many of our most famous scientists, from Edison to Einstein to Temple Grandin, had and have disabilities. The truth is that these students have great abilities and the key is using their strengths to help them meet their goals."
Blumenfeld does just that through activities that let the students get their hands on real science, from building circuits to dissecting chickens. Class sizes are small — around 10 students per session — so that everyone can get the attention and individualized instruction they need. And thanks to generous funding from the Biogen Foundation, the cost for students' families has been kept low.
NC State has been instrumental in helping Blumenfeld harness the students' talents. A number of graduate and undergraduate students from across the university regularly volunteer to lead or assist in the teaching of Catalyst sessions. The Science House has supported the program with grant-writing and logistics, and it also provides a reliable home base for the program on NC State's Centennial Campus.
"Catalyst exists because of collaboration," says Jason Painter, the Science House's director. "The Science House, the College of Sciences, our partners across NC State and outside the community, including Wake Tech and the NC Museum of Natural Sciences — together, we've made it possible to host these students."
While most Catalyst attendees live in Wake County, some have come from as far away as Charlotte or New Bern, N.C., their parents driving hours each way to ensure their child doesn't miss one of the program's Saturday sessions. The students' disabilities have been wide-ranging, from autism to hearing impairment to Down syndrome. What all of the attendees have in common is the sense of teamwork and mutual support the program instills — not to mention clearer insight into the many STEM paths available to them.
"It's absolutely made me more confident for college," says Austin Bach, a senior at Holly Springs High School. He's one of two current Catalyst students applying to NC State this year.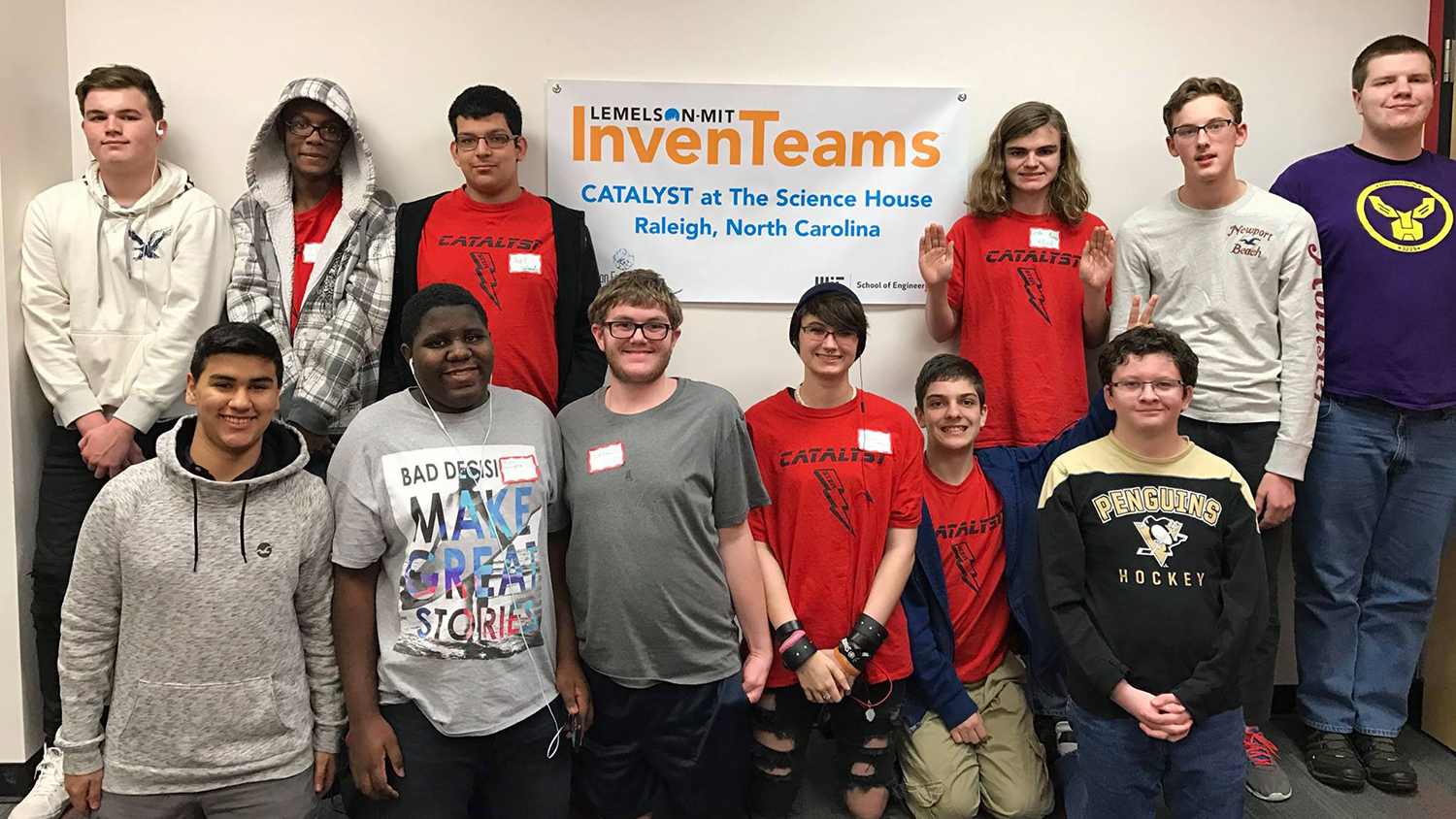 The first spark for the Catalyst program also came from NC State: Three years ago, Blumenfeld visited a veneer factory near New Bern, N.C., as part of the Sustainable Forestry Teachers Experience, which is organized by the Forestry and Environmental Outreach Program in the College of Natural Resources. The factory tour guide revealed that staff were being brought in from Canada because of a local shortage of industrial mechanics.
"I thought: 'This is crazy, my students should be able to do this,'" says Blumenfeld. "So a big light bulb went off in my head, and I said, 'We need to start training our students to do more.' We need to develop a program that helps support them in their needs and experiences so they can then go on to succeed in STEM careers."
One of Catalyst's biggest successes to date has been taking part in Lemelson-MIT InvenTeams, a national competition among budding high school inventors. With the guidance of NC State faculty and students, 12 members of the Catalyst program have set out to develop a cost-effective pressure mat that screens for lameness in dairy cattle, inspired in part by visits to the Cherry Research Farm in Goldsboro and the NC State College of Veterinary Medicine. Last October, they were selected as one of the top 15 teams in the country — and the first that's exclusively made up of students with disabilities.
"I was very excited," says Bach, who is among the 12 members of the Catalyst InvenTeam. "My dad was very excited. I told my robotics team [at Holly Springs High School] and they were very excited. My friend who wants to go to MIT was jealous of me."
That win came with a $10,000 grant to build a prototype of the pressure mat. It also means a trip to MIT and Boston next summer, if the program can secure the funding to travel. Above all, it serves as proof of the Catalyst model: Blumenfeld can now see a future where the program spreads to the Science House's satellite offices across North Carolina — or is even emulated nationally.
"The thing I'm proud of is that people often think of kids with disabilities as kids we need to 'help,'" says Blumenfeld. "They don't think of them as leaders and learners of science. But now these NC State professors and grad students have met these kids and know they can do it. We've opened up the whole university to these kids."
Blumenfeld is eager to credit those faculty and staff who have embraced the Catalyst program, including Alper Bozkurt, Jesse Jur, Keena Mullen, Elena Veety and Steve Washburn. She notes that NC State colleges and units have opened their doors to the Catalyst program time and again, offering up their expertise and resources to the students. The Disability Services Office at NC State has also met with Catalyst attendees to let them know about the resources and accommodations the university provides to its students.
"NC State has done everything," Blumenfeld says. "And without the Science House, we wouldn't be sitting here. It does take a village to raise a child, but we've taken the whole Wolfpack."
---
This story was originally published by NC State News