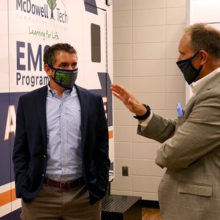 Nation Hahn
Reader. Writer. Food lover. Runner. Once named Southerner of the Year.
---
Nation Hahn is the Chief of Growth of EducationNC. He was on the founding team of EdNC, which launched in 2015 to engage North Carolinians on education issues through news, research, and information.
To everything he does, Nation brings a background and expertise in design thinking, communications, public policy, and philanthropy.
Nation helps lead fundraising and partnership efforts for EdNC. He helped pioneer a strategy that combines a theory of change, leadership development, and "go and see" opportunities for philanthropists and policymakers to build relationships with local leaders in all 100 counties. With this strategy, more than $15,000,000 has been raised for EdNC's work.
At EdNC, he helps drive the postsecondary and community college coverage for EdNC, including the award-winning Awake58 weekly. As of May 2023, he has traveled to 57 of the 58 community colleges — many of them more than once.
Nation conceived of and launched Reach NC Voices, an engagement initiative that connects people to policy and policy to people. Reach launched in 2017 with a $1.5 million investment from national and statewide funders. Reach is a set of tools that allows EdNC (and others) to build and engage audiences — including tools that allow civic news organizations to survey, text, and engage through live events. Reach is used by nonprofits across North Carolina and media outlets across the country.
Nation participated in the year-long 2019 Media Transformation Challenge at the Shorenstein Center at Harvard — and he now coaches other major media organizations on digital transformation.
Nation has served on a variety of boards throughout his career, including for organizations focused on education, homelessness, and food security. He was previously an Aspen Ideas Fest Fellow, and he served as a member of the Z. Smith Reynolds Community Leadership Council. He was also named to the Triangle Business Journal's 40 under 40 list in 2017.
At one point, he was named a Southerner of the Year by Southern Living magazine.
He would be happy to discuss the advantages of vinegar-based BBQ, the best restaurants to find livermush biscuits, and his favorite small-town festivals as he has traveled to every corner of North Carolina.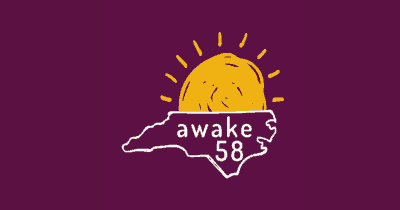 Awake58
by Nation Hahn |